Museum of Art Pudong, Shanghai
July 8, 2021–March 7, 2022
The Museum of Art Pudong (MAP), located beside the Oriental Pearl television tower in Shanghai, will open its doors to the public for the first time on July 8, 2021. Designed by the renowned Ateliers Jean Nouvel, MAP aspires to become a new landmark of Shanghai's cultural landscape and a platform for international exchange of arts and culture. For its inaugural program, the museum will present three major exhibitions: Light: Works from Tate's Collection; Joan Miro. Women, Birds, Stars; Cai Guo-Qiang: Odyssey and Homecoming.
Touring from the Palace Museum in Beijing where it opened last December, Odyssey and Homecoming features 119 of Cai's signature gunpowder paintings and other works, including his widely acclaimed first-ever VR work Sleepwalking in the Forbidden City. The works in the exhibition represent Cai's research, exploration, and voyage across the globe, recreating his Individual's Journey Through Western Art History project for audiences in China.
July 14–August 14, 2021
Rockbund Art Museum (RAM), Shanghai, is delighted to announce the official launch of its brand-new digital platform RAM+, partnering with TR Lab, a pioneering platform dedicated to the discovery of NFT art from the world's leading artists. Ten years after their first collaboration, RAM is honored to once again work with artist Cai Guo-Qiang, who curated its inaugural exhibition in 2010. On the occasion of RAM's 10th anniversary, Cai has created his first Non-Fungible Token (NFT) project Transient Eternity—101 Ignitions of Gunpowder Paintings. Beginning July 14 at 9 PM (Beijing time, UTC+8), the artwork will be featured in a 48-hour charity auction on the TR Lab platform (trlab.com), on view until August 14, 2021.
Downtown Coral Gables, Florida
February 12–March 14, 2021
When invited to curate and produce Illuminate Coral Gables, Chief curator Lance Fung made two immediate calls: Cai Guo-Qiang and Kiki Smith. Both art luminaries agreed to participate. "Fireflies is one of the most successful and historic public artworks I have been a part of. It is about bringing people together, sharing stories, reinforcing the value of community, all while being a deeply conceptual artwork by embracing different cultures and the actual general public it is meant to serve," states Fung.
Twenty-seven American-made pedicabs are transformed into kinetic and interactive sculptures through 1000 handmade silk Chinese lanterns and the brilliance of Cai Guo-Qiang. These interactive sculptures are visible in the evening and in all cases do what great art should do – provide an experience. Although the viewer from afar or rider from within may have varying interpretations, Fireflies maintains the impossible balance of the spectacle and introspection. Coral Gables' unique downtown setting creates a memorable backdrop for the roaming fireflies that take visitors for free rides to rediscover themselves and the city they call home.
Photo (left) by John Talley Photography; courtesy of Fung Collaboratives/Illuminate Coral Gables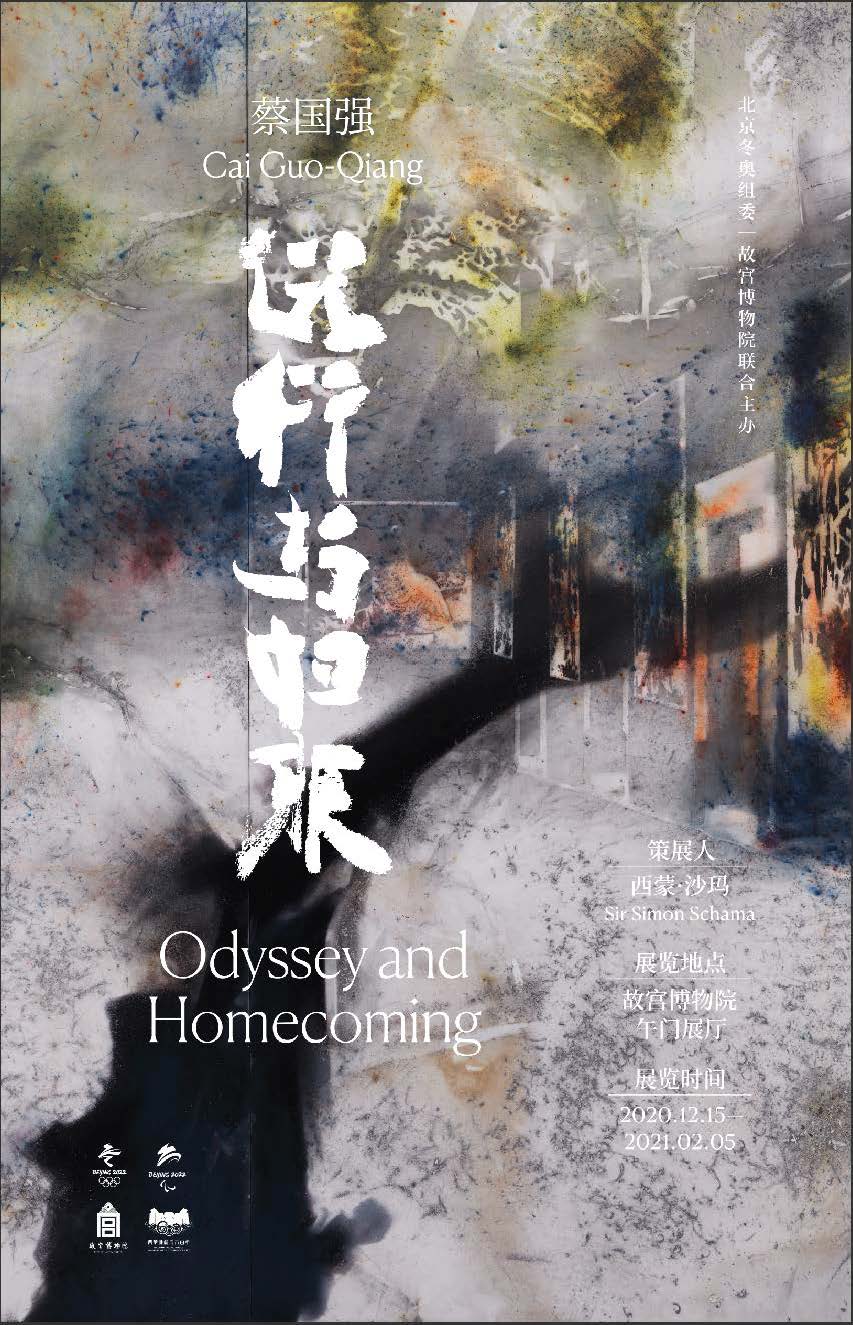 The Palace Museum, Beijing
December 15, 2020
Cai Guo-Qiang's exhibition Odyssey and Homecoming at the Forbidden City's Palace Museum opened to the public on December 15.
Coinciding with the 600-year anniversary of the Forbidden City's founding, the first-ever solo exhibition of a contemporary artist at the Palace Museum assembles approximately 180 of Cai's signature gunpowder paintings and other works, from Cai's ambitious multi-year Individual's Journey Through Western Art History, as well as his dialogues with Eastern aesthetics, his original passion for painting, and his eternal homeland, the cosmos.
The exhibition is curated by Sir Simon Schama and co-organized by the Beijing Winter Olympics Committee and the Palace Museum. Odyssey and Homecoming will be on view through February 5, 2021.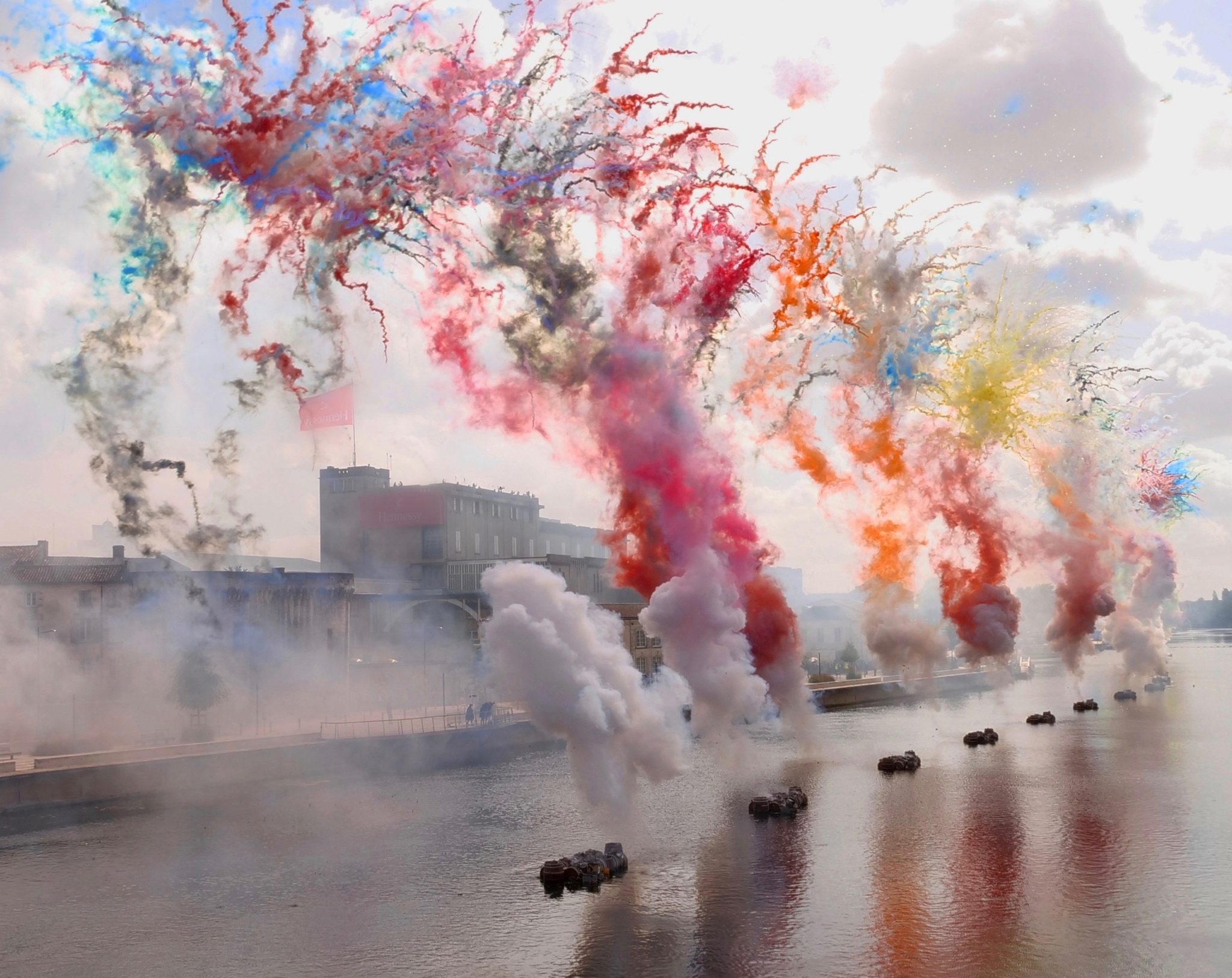 The Birth of Tragedy

Cognac, France
September 25, 2020
As the coronavirus pandemic gradually stabilizes and the world restores its energy, Cai Guo-Qiang's daytime explosion event, The Birth of Tragedy, was brought to a worldwide audience from Charente in Cognac, France via livestream on September 25th, 2020 at 3 PM CET / 9AM EDT. Twenty thousand shots of fireworks were launched from 150 oak barrels floating on the river, to honor the universal values of resilience, courage, and hope, and to demonstrate mankind's heroic faith in life and power after a strenuous feat.
The Birth of Tragedy was commissioned as part of "A World Odyssey," which marks Hennessy X.O's 150th anniversary. Cai's daytime fireworks use exclusively non-toxic, eco-conscious, CE-certified pyrotechnic products.
Left: Photo by Simon Cassanas, courtesy Hennessy